About APEC 2019
APEC is now considered to be the leading conference for practicing power electronics professionals. The APEC program addresses a broad range of topics in the use, design, manufacture and marketing of all kinds of power electronics equipment. The combination of high-quality Professional Education Seminars, a full program of refereed papers and an overflowing Exhibit Hall consistently provides an invaluable education each year. 
The event will take place at the Anaheim Convention Center from March 17th to March 22nd. 
Come see us at our booth #938 and see live demonstrations on:

OP1300 Power Electronics Test Bench 
Highly modular, flexible and configurable, the OP1300 Power Electronics Test Bench combines a state-of-the-art Hardware-in-the-Loop (HIL) based simulator from OPAL-RT with Imperix's Rapid Control Prototyping (RCP) system and real power hardware. It enables rapid prototyping and development of power electronics, drives and smart-grid applications across all sectors. 
OP1400 Microgrid PHIL Test Bench
The OP1400 Microgrid PHIL Test Bench is a comprehensive real-time simulation and test system for microgrid applications based on OPAL-RT's simulators and the new OP8110 4-Quadrant PHIL Amplifier. It uses a model-based design and testing methodology to simulate microgrid topology (SIL), to validate microgrid or power electronic controllers (HIL), and to interact with real microgrid components (PHIL). 

Join us at our Exhibitor Seminar
Title: Real-Time Simulation : Helping the World Build Better Products

Wednesday, March 20, 2019-10:30AM-11:00AM

Exhibit Hall Show Floor: Theatre 1

Speaker: Martin Bélanger, Sales Director, North America

Session Description:
For nearly 20 years, OPAL-RT has conducted extensive research and development in the field of power electronics, in order to deliver the fastest and most accurate real-time simulation. OPAL-RT platforms for testing and validation of electronic controls cover a wide range of applications, from renewable energy conversion to highly complex multi-modular converters (MMC) and the electric motors of tomorrow's transportation industry.
By combining precise expertise, experience and mathematical innovation, OPAL-RT has succeeded in creating the market's fastest computing level for real-time simulation on FPGA for power electronics applications. Fast real-time simulation achieves more accurate results and increases HIL and RCP test coverage, and now pushes back the boundaries of what is achievable with PHIL applications.
Plan your visit

Our representatives will be available at our booth #938 to answer your questions. Contact us to schedule a personalized demo before, during or after the conference.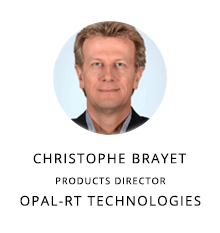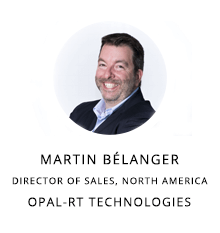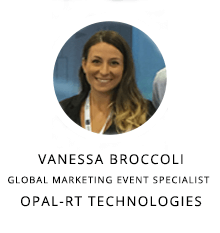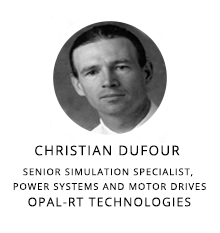 We are looking forward to meeting you in Anaheim!
SCHEDULE A PERSONALIZED MEETING