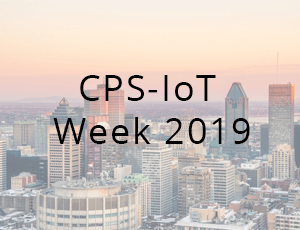 CPS-IoT Week 2019
15 Apr to 18 Apr 2019 // Montreal, Canada
About CPS-IoT Week 2019
CPS-IoT Week is the premier event on Cyber-Physical Systems and Internet-of-Things Research. It brings together five top conferences, HSCC, ICCPS, IPSN, RTAS and IoTDI, multiple workshops, tutorials, competitions and various exhibitions from both industry and academia. Altogether the CPS Week program covers a multitude of complementary aspects of CPS, and reunites the leading researchers in this dynamic field from 15 to 18 April 2019.


Demonstration : A Complete Cyber-Physical Solution for Critical Infrastructure
OPAL-RT TECHNOLOGIES has partnered with Scalable Networks Technologies, a world leader in high-performance communication systems simulation. This partnership will help support world-class cyber-physical applications across the world.
While the use of information technology brings significant benefits, it can also open new cyberattack vectors, which can expose vulnerabilities within a system. The partnership between Scalable Networks and OPAL-RT will help address the modern cyber-physical challenges faced by organizations and engineers when it comes to designing and protecting critical infrastructure, such as the grid.
Plan your visit
Join us and discover how our Cybersecurity solutions can help you speed up development, save costs and reduce risks.
Contact us to schedule a personalized demo. We remain at your disposal to discuss your future research projects.

We are looking forward to meeting you in Montreal!