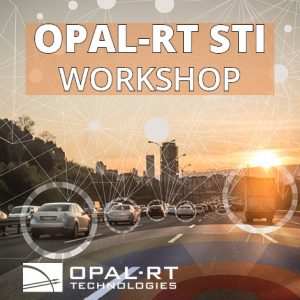 OPAL-RT STI Inauguration
20 Jun to 20 Jun 2019 // Lyon, France
OPAL-RT Systèmes de Transports Intelligents - Inauguration day 20/06/2019 Lyon, France
Save the Date !



OPAL-RT TECHNOLOGIES is the leading provider of open Real-Time Digital Simulators to design, , test and optimize control and protection systems used in automotive, electric & hybrid vehicle, autonomous vehcile, motor drive for trains, aircraft and various others industries, as well as R&D centers and universities. 
OPAL-RT is the world leader in the development of PC/FPGA-based real-time simulators, Hardware-in-the-Loop (HIL) testing equipment, Rapid Control Prototyping (RCP) systems and  all the testing process such as xIL (MIL/SIL).

OPAL-RT Technologies is excited to open its Intelligent Transportation Systems office! Join us on the 20th of June in Lyon for the official inauguration of our latest subsidiary.

Meet our team during our day-long Workshop, and stay with us a little longer for a Cocktail. 

SEE THE PRELIMINARY AGENDA

WHO SHOULD ATTEND:
This event will give you the opportunity to network with researchers, Ph.D. students, engineers, and industrials.


TOPICS COVERED: 
– Autonomous Vehicle

Come and learn more about the benefits of Real-Time simulation and how OPAL-RT solutions can help engineers to develop your projects. 

The representatives from OPAL-RT  will feature presentations and live demonstrations.