2019 International Conference on Smart Power & Internet Energy Systems will be held in Deakin University, Melbourne, Australia on April 25-27, 2019.
The International Conference on Smart Power & Internet Energy Systems is one of the principal events for power and energy experts from academia, industry, utilities, power and energy service providers, researchers and scientists across the globe to exchange ideas and experiences on emerging and enabling technologies.
Electric power systems are currently undergoing fast and transformational changes. Distributed Generation, Nano-grids, Micro-grids with and without storage are now emerging as common features of today's complex power system. With the blessing of modern computer, communication, and information technologies, the traditional power system is going to be connected with Smart-grid hub. This conference is a timely event to share your views on energy transformation and discuss these with power and energy leaders from Australia, Asia, Europe, North America, and Africa. The theme of this year's conference is "Smart Grid Technologies for Smart Nations" and includes keynote and plenary speeches, tutorials, papers and poster presentation. 

Title: Evolving Intelligent Distributed Power Grids
Speakers:

Jean Bélanger, CEO & CTO, OPAL-RT TECHNOLOGIES

Description: 

In the last half-century, we have witnessed wholesale and essential changes in the ways we structure and conceive of generation, transmission and distribution systems.

Generation systems

have

evolved from high-inertia

,

schedulable

,

large rotating machines to low-inertia

,

power-

electronics-

based

,

small

and

distributed non schedulable renewable energy systems

;

Transmission systems

have

evolved from traditional AC

transmission circuits and local protection systems to AC

-

DC

 

transmission

 networks

equipped with fast power

electronics

controllers

 

(FACTS). Sophisticated wide

-

area protection and control

schemes

and communication systems are

both

used to maximize security

,

and power transfer capabilit

y

 to reduce rights-of-way

;

Distribution

systems

can no longer

be represented by

simple passive and dynamic load equivalents. Distributed energy

 

generation and storage systems

may

now

 

be

integrated anywhere

 

on the grid

,

including at customer sites. Each customer

can potentially

become a

de-centralized 'prosumer' of sorts,

with

photovoltaics (

PVs

),

batteries,

and

plug-in electrical

 


This presentation will discuss the expected flexibility and capability of simulation tools and "digital twins" that will be required to cope with the increasing complexity of our shared modern and evolving intelligent distributed power grids.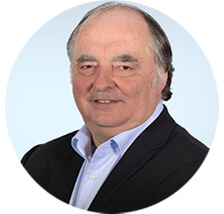 OPAL-RT
Jean Bélanger
CEO & CTO
OPAL-RT TECHNOLOGIES
Our representatives will be available to answer your questions. Contact us to schedule a personalized demo before, during or after the conference.