April 7, 2023
OPAL-RT TECHNOLOGIES redefines speed, power, and accuracy of real-time FPGA simulations through the brand-new eHS Gen5
eHS Gen5 focuses on user experience and reliability, a streamlined workflow in Simulink, and the possibility of configuring the model in seconds.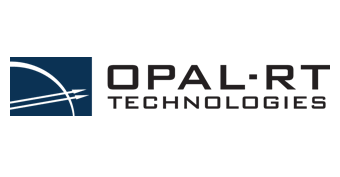 [
MONTREAL, CANADA, April 7th , 2023] — OPAL-RT TECHNOLOGIES launched today eHS Gen5, its fifth-generation real-time power electronics simulation toolbox. With its latest developments, users can directly access the Schematic Editor with a workflow centered around what is essential.
As the world electrifies, researchers are pushing the limits of power electronics requirements regarding efficiency, loss reduction, and power density. eHS Gen5 steps up to the challenge of these new demands, offering market-defining speed, accuracy, and power, for a wide range of high-frequency converter applications.
Like its predecessors, eHS Gen5 facilitates the use of FPGA for high-fidelity Hardware-In-the-Loop (HIL) simulation with sub-microsecond time steps by avoiding the difficulties associated with the coding of FPGA devices. It requires no mathematical modeling, VHDL programming, or FPGA experience on the user's part, who can go from circuit modeling to FPGA in seconds,
without having to recompile any bitstream.
The fifth-generation model significantly improves speed and resolution, resulting in faster and better outcomes. Moreover, it offers enhanced usability and system compatibility, making it attractive to both existing and new users. "eHS Gen5 is about reaching the limit of the FPGA's computational performance to achieve the maximum resolution . We can now achieve a 100ns time step and a resolution of 625ps on the gating events— which makes it the fastest real-time simulation platform in the world for power electronics application ." Says Sébastien Cense, Energy Conversion Offering Manager at OPAL-RT.
Compared with its competitors, eHS Gen5 stands out for its flexibility of using the same solver without decoupling for all kinds of circuits while also being able to reach Ts as low as 90ns in user-defined configurations. Faster time-steps can be achieved in customized application with RT-XSG.
eHS Gen5 admits running up to 21 three-phase inverter models (128 switches) on the same FPGA core, removing the instabilities and allowing faster time steps inherent with electric circuit partitioning. Efficient parallelization algorithms ensure you can connect multiple FPGA cores with high-speed optical cables to expand capacity without impacting time step or performance. Having a significantly large core on an FPGA is remarkable, especially considering its ability to perform beyond competitors that use eight cores, but demand extensive decoupling.
Furthermore, the eHS product can simulate user-defined resonant converter topologies in real-time, featuring a switching frequency range of 100kHz to 250kHz , or even faster for some topologies as in the example further below. For user-defined VSC applications, 500kHz is easily achievable. Additionally, the product's performance can surpass real-time capabilities when utilizing parameter scaling.
The eHS' most recent upgrade has reduced power electronic testing to three simple steps: first, develop the model in the circuit editor; then configure the I/O channels; and finally, execute in real-time for manual or automated testing and data analysis.
"eHS Gen5 is a perfect example of our mission at OPAL-RT TECHNOLOGIES. It will help our customers reduce the cost and time of designing, prototyping, and testing complex, high-speed power electronics systems by providing a high-performance yet open and easy-to-use simulation system," said Jean Belanger, President and CTO of OPAL-RT TECHNOLOGIES.
A successful example of implementing eHS Gen5 simulation toolbox in the industry is the recent On-Board Charger (OBC) with a 400kHz switching frequency development project with the global automotive supplier Valeo. The new generation of eHS HIL simulation helped improve the robustness of the On-Board Charger and the entire system, including the connection point. "eHS Gen5, in this HIL context, provides advanced real-time simulation, allowing faster evaluation of new concepts before developing Power Hardware, a costly and time-consuming process, and so one worth streamlining and shortening," said Moctar Coulibaly , R&D Platform Director at Valeo Powertrain Electrified Mobility.
Read Valeo's Success Story here
eHS Gen5 is ideal for various industrial design applications, including the growing fields of electric motor drives, car charging stations, wind turbine converters, solar power inverters, and microgrid networks.
Furthermore, eHS Gen5 is compatible with the most powerful OPAL-RT real-time simulators, such as the OP4000 and OP5707 families.
About OPAL-RT TECHNOLOGIES
OPAL-RT TECHNOLOGIES offers the most complete, open, and high-performance real-time power system simulation solutions on the market. Thanks to their unprecedented level of product integration, they cover every need for traditional power grid simulations and offer an unsurpassed level of scalability to design, simulate, and test complex power systems used in power electronics, motor drives, automotive, trains, aircraft, and various industries, as well as R&D centers & Universities. The list of OPAL-RT's more than 1,500 customers includes Australian Energy Market Operator (AEMO), Ford, General Motors, Hydro Québec, Jaguar Land Rover, NASA, Peugeot, Pratt & Whitney, Renault, Schneider Electric, Siemens, Volvo, NR Electric (NR), KERI, among others.
ABOUT VALEO
Valeo is a truly diversified global automotive supplier headquartered in France, listed on the Paris Stock Exchange (CAC-40 Index), supplying a wide range of products to automakers worldwide and the associated aftermarket. They employ over 110,000 people in over thirty countries worldwide and have 186 production plants, 59 R&D centers, and fifteen distribution platforms. In 2018, Valeo's sales rose to €19.1 billion. On the R&D side, it also ranked as France's leading filer of patents from 2016 to 2018.
Connect with OPAL-RT TECHNOLOGIES at
www.opal-rt.com
or on
LinkedIn
,
Facebook
,
Twitter
, and
YouTube
.
For more information visit
eHS | FPGA-based Power Electronics Toolbox
or contact:
Genevieve Deschamps, Communication Business Partner | OPAL-RT TECHNOLOGIES
genevieve.deschamps@opal-rt.com
514.291.1560